Phew. Did some catch up on my Etsy site and got a bunch more products listed this week including:
>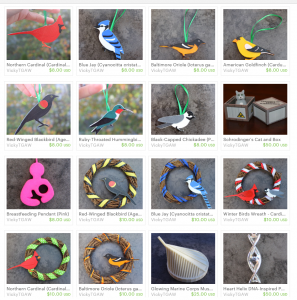 Bird Christmas Ornaments and Wreaths – for the Nature Lovers on your Christmas list!
The National Museum of the Marine Corp – a special model for a show I did in Quantico, Virginia. The model glows in the dark and can be lit within by LED
Library of Congress Ornament– which scored me a trip to the White House.
Schrodinger's Cat and Box – It has been a surprise sleeper at the craft shows, so I decided it was Etsy-worthy. 🙂
Breastfeeding Pendants – where my 3D Printing journey began!
Heart Helix Pendants – My current favorite necklace– hearts twisted into a double helix.
Enjoy!