Last week, thinking about how much I have gained from the generous licensing of Thingiverse designers (such as RosieCampbell, Liz Havlin, EHM), I decided to pay it back a little bit and I made my Glowing Pumpkin Pendant/Pin available on Thingiverse. I even marked it as good for Remix and Commercial use.
A week later, my design has its first Remix! A gentleman from the Ukraine adapted it into a keychain! And interestingly enough, he printed it in a single color… and it looks fantastic!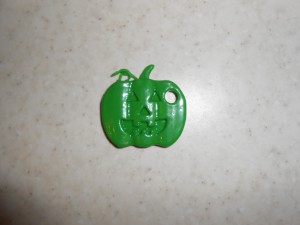 Just like the Mill House Museum Ornament, I'm glad to see my colored design translates well to a single color! : )
P.S. If you don't have a printer, I do have prints of the original Glowing Pumpkin Pendant/Pin listed on Etsy.